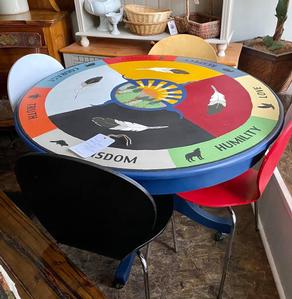 *** DONATED *** Handpainted Indigenous Teachings Table & Chairs
We made the decision to donate this table and chairs to the Giigewigamig First Nation Health Authority's Healing Centre in Pine Falls, MB.

Our spectacular hand painted indigenous table with coordinating chairs. A conversation starter for sure!
Table is an antique oak pedestal table.
Chairs are modular.